August 6 2020 — Seven decades after the US dropped atomic bombs on the Japanese cities of Hiroshima and Nagasaki, the real reasons behind the decision still divide historians. Recently declassified documents from the time suggest the nuclear strikes may have been performed not out of military necessity but to intimidate the USSR. Follow us on Twitter: @INTEL_TODAY
UPDATE (August 6 2021) — On the 76th anniversary of the world's first atomic bombing, the mayor of Hiroshima Kazumi Matsui urged world leaders to commit to nuclear disarmament.
"Nuclear weapons, developed to win wars, are a threat of total annihilation that we can certainly end, if all nations work together," Matsui said. "No sustainable society is possible with these weapons continually poised for indiscriminate slaughter."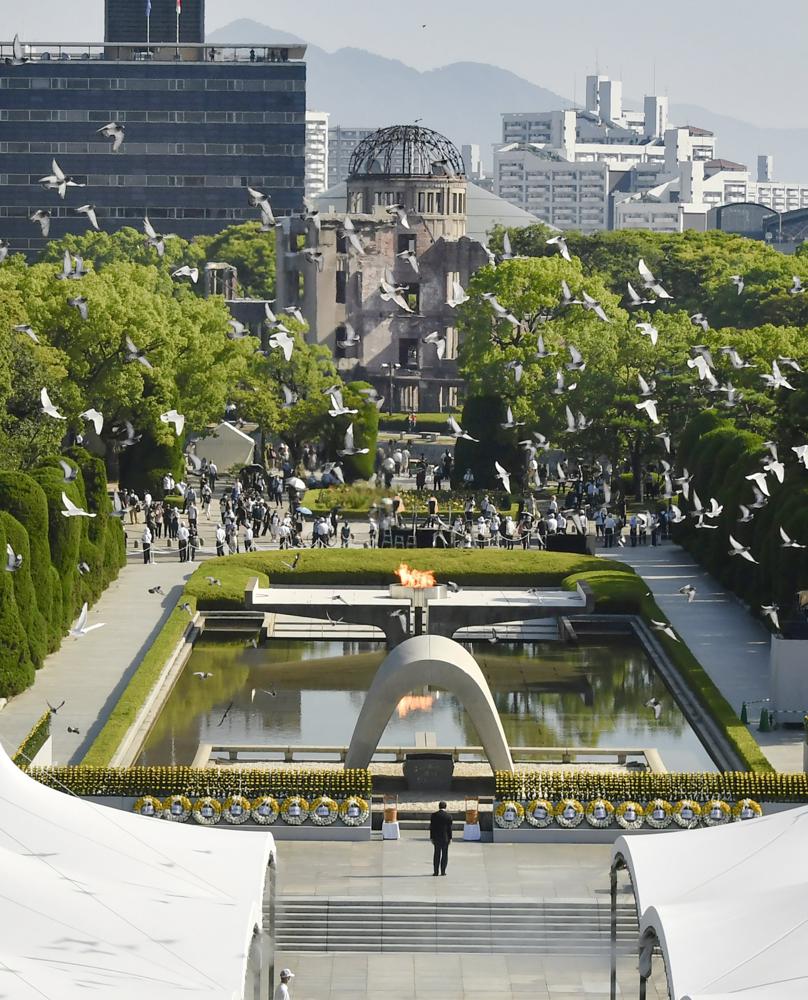 50 countries have ratified the global Treaty on the Prohibition of Nuclear Weapons. The U.S. and other nuclear powers as well as Japan have not ratified the Treaty. Prime Minister Yoshihide Suga said he had no plan to sign the treaty.
END of UPDATE
In the early 90s, George Wells FARWELL introduced me to Hans BETHE, often described as the most important "gift" from Nazi Germany to the United States.
Bethe came to U.W. in Seattle to discuss first the 1987A supernova and then — what was known at that time as — the solar neutrino puzzle.
After graduating from Harvard in 1941 Farwell began graduate studies in physics at Berkeley. In 1943 he joined the Manhattan Project at Los Alamos, New Mexico.
He participated in the first atomic bomb detonation at Trinity Site, New Mexico, in 1945.
After the war he completed his PhD under Enrico Fermi at the University of Chicago. The subject was the induced fission of Plutonium.
Once George told me about stressing situations:
"Suppose you are sitting at your desk doing some calculations. Then, out of the blue, you smell Oppie's pipe behind you. Now, that IS stress!" [BTW, George was one of the kindest persons I have ever met.]
Hans Bethe told me two things I never forgot. The first is obvious to nuclear physicists but nevertheless completely misunderstood by politicians.
US President Truman is proof of that when — speaking about the Russians — he stated that the "Mongols" are not smart enough to build an atomic bomb….
Bethe — as the Los Alamos primer makes it very clear — stated that there is only ONE SECRET about the A bomb.
And the secret is that it can be built! After Hiroshima, there was no secret left whatsoever. Everyone KNEW that there is a solution to the problem. Full Stop!
Bethe made a second point which — in my opinion — has not been debated in a satisfactory way to this day.
He said that Hiroshima may, or may not, have been justified. But in his mind, Nagasaki was without a doubt a war crime. I fully agree.
Atomic Message: 70 years after Hiroshima & Nagasaki bombing
Peter Scott travels to the two Japanese cities that were devastated by the attacks, where he visits a victims' memorial and meets nuclear blast survivors still haunted by their memories.

He also interviews President Truman's grandson, Clifton Truman Daniel, on the subject of his grandfather's controversial legacy.
REFERENCES
Revisiting The Los Alamos Primer — Physics Today
The Los Alamos Primer — Original pdf
=
Remembering Hiroshima (August 6 1945)
On This Day — Remembering Hiroshima (August 6 1945)
75 Years Ago — Remembering Hiroshima (August 6 1945)
On This Day — Remembering Hiroshima (August 6 1945) [2021]