August 6 2020 — Seven decades after the US dropped atomic bombs on the Japanese cities of Hiroshima and Nagasaki, the real reasons behind the decision still divide historians. Recently declassified documents from the time suggest the nuclear strikes may have been performed not out of military necessity but to intimidate the USSR. Follow us on Twitter: @INTEL_TODAY
UPDATE (August 6 2022) — Average Lifetime of an Intelligent Civilization
On Earth, the average lifespan of a civilization is about 300 years. [The lifespans of ancient civilizations — Luke Kemp, Centre for the Study of Existential Risk at the University of Cambridge]
This observation raises an obvious question. What is the average lifetime of an 'Intelligent' Civilization? How long before an 'Intelligent' Civilization depletes all its resources or ends in a nuclear apocalypse?
This is obviously a difficult question as the answer will depend on many assumptions. A reasonable estimate may range from 300 years to 3 million years.
"In the cycle of existence of all natural systems (possessing an excess of free energy with respect to the environment – stars, living organisms, social systems, etc.) 4 universal stages can be distinguished: growth. internal development, stationary state, ageing (Kompanichenko, Futures, 1994, 26/5). In the context of this approach, human civilization that originated 10000 years ago is going through the natural cycle of its development. The analogy between the two different-hierarchy active systems is drawn: a human ( constructed of 60 trillion autonomous living systems – cells) and the human community (consisting of 6 billion autonomous living systems – people). In the cycle of the existence of a human, each of the four stages accounts for roughly 25% of its lifespan: growth 0-18 years, internal development, reaching maturity 18-36 years, stationary state 36-54 years, ageing 54-72 years. The humankind is now almost approaching the limits of its growth. Consequently, it can correspond to the age of 16-17 years old person. Thus, we can assume that during 10000 years of its existence human civilization has passed about 25% of the cycle of development. There is 30000 years of normative existence ahead (middle estimation). Actual existence can oscillate between 300 years and 3 million years, depending on the reasonable, conscious approach of humankind to its future. According to the Drake equation, with normative estimation L=30000 years there should exist at least several thousand of intelligent civilizations in our Galaxy." [Vladimir Kompanichenko, Average Lifetime of an Intelligent Civilization Estimated on its Global Cycle — Bioastronomy 99: A New Era in the Search for Life]
[1] This quote has been credited to four celebrated wits: George Bernard Shaw, Oscar Wilde, Winston Churchill, and Georges Clemenceau.
END of UPDATE
UPDATE (August 6 2021) — On the 76th anniversary of the world's first atomic bombing, the mayor of Hiroshima Kazumi Matsui urged world leaders to commit to nuclear disarmament.
"Nuclear weapons, developed to win wars, are a threat of total annihilation that we can certainly end, if all nations work together," Matsui said. "No sustainable society is possible with these weapons continually poised for indiscriminate slaughter."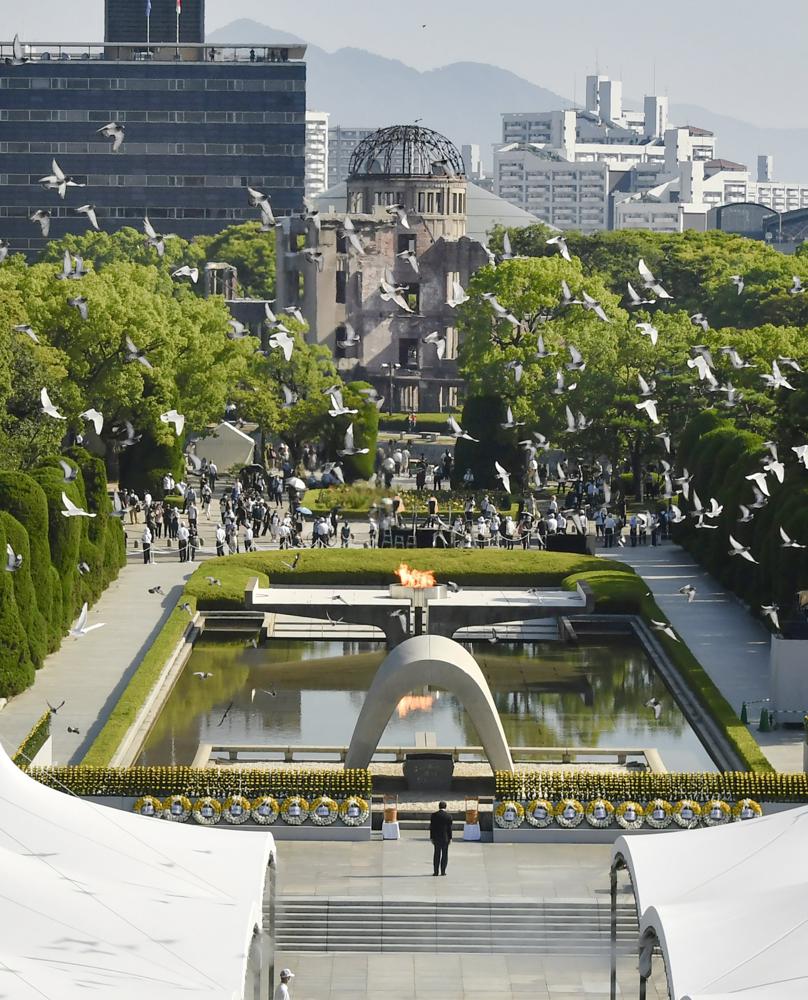 50 countries have ratified the global Treaty on the Prohibition of Nuclear Weapons. The U.S. and other nuclear powers as well as Japan have not ratified the Treaty. Prime Minister Yoshihide Suga said he had no plan to sign the treaty.
END of UPDATE
In the early 90s, George Wells FARWELL introduced me to Hans BETHE, often described as the most important "gift" from Nazi Germany to the United States.
Bethe came to U.W. in Seattle to discuss first the 1987A supernova and then — what was known at that time as — the solar neutrino puzzle.
After graduating from Harvard in 1941, Farwell began post-graduate studies in physics at Berkeley. In 1943 he joined the Manhattan Project at Los Alamos, New Mexico.
He participated in the first atomic bomb detonation at Trinity Site, New Mexico, in 1945.
After the war he completed his PhD under Enrico Fermi at the University of Chicago. The subject was the induced fission of Plutonium.
Once George told me about stressing situations:
"Suppose you are sitting at your desk doing some calculations. Then, out of the blue, you smell Oppie's pipe behind you. Now, that IS stress!" [BTW, George was one of the kindest persons I have ever met.]
Hans Bethe told me two things I never forgot. The first is obvious to nuclear physicists but nevertheless completely misunderstood by politicians.
US President Truman is proof of that when — speaking about the Russians — he stated that the "Mongols" are not smart enough to build an atomic bomb….
Bethe — as the Los Alamos primer makes it very clear — stated that there is only ONE SECRET about the A bomb.
And the secret is that it can be built! After Hiroshima, there was no secret left whatsoever. Everyone KNEW that there is a solution to the problem. Full Stop!
Bethe made a second point which — in my opinion — has not been debated in a satisfactory way to this day.
He said that Hiroshima may, or may not, have been justified. But in his mind, Nagasaki was without a doubt a war crime. I fully agree.
REFERENCES
Revisiting The Los Alamos Primer — Physics Today
The Los Alamos Primer — Original pdf
=
Remembering Hiroshima (August 6 1945)
On This Day — Remembering Hiroshima (August 6 1945)
75 Years Ago — Remembering Hiroshima (August 6 1945)
On This Day — Remembering Hiroshima (August 6 1945) [2021]
On This Day — Remembering Hiroshima (August 6 1945) [UPDATE : Average Lifetime of an Intelligent Civilization]