August 21 2020 — On August 21 1987, US Marine Clayton J. Lonetree was convicted of espionage in a military court in Quantico, Virginia. The "sex for secrets" scandal led to the recall of the entire 28- member contingent of Marine guards from the Moscow embassy. Follow us on Twitter: @INTEL_TODAY
In the early 1980's, Lonetree was stationed in Moscow as a guard at the U.S. Embassy. In 1987, he confessed to passing documents to the Soviet Union.
Lonetree had been seduced by a 25-year-old female KGB officer named Violetta Seina.
He was then blackmailed into handing over documents when he was assigned to the US Embassy in Vienna, Austria.
These documents included the blueprints of the U.S. Embassy buildings in Moscow and Vienna.
US media alleged that he also gave the names of CIA personnel as well as the names and identities of U.S. undercover intelligence agents in the Soviet Union.
That is — of course — completely absurd. He detailed the work habits of embassy staff.
The harsh sentence was given due to serious security breaches at the Moscow embassy.
Years kater, much of this was found to have been the result of the Aldrich Ames treason case.
A 'Chance Meetings' with Violetta Seina
Tall at about 5 feet 9 inches, with shoulder-length brown hair and striking gray eyes, Violetta Seina, always stood out at embassy social functions in fashionable attire.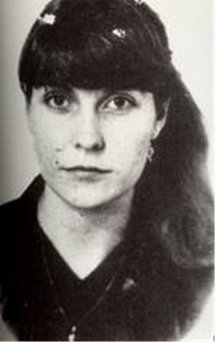 Sergeant Lonetree first met Miss Seina by chance in a subway station in September 1985.
A month later, another chance meeting at the same station led to an extended conversation.
Miss Seina told him she was going home but continued to talk with Lonetree after missing her train stop.
"We got off together at a later stop and began a long walk together talking about various subjects, including American movies, books, food, likes and dislikes, etc.

She asked me questions about my family background, life in America and how I liked living in Moscow. We walked and talked for about two hours, after which she went home and I returned to the embassy.

We agreed to see each other again. I suggested to her that she should try to come to some of the parties that are held in the embassy or other official establishments."
Although he acknowledged that he committed criminal acts for which he should have been punished, Lonetree contended that he gave nothing of value to the Soviets and the U.S. government overreacted.
In April 1993, the Supreme Court declined to hear Lonetree's appeal.
In October 1994, Lonetree sought prompt release based on CIA traitor Aldrich Ames' claim that the Soviet KGB lured him into spying to divert attention away from Ames' own illegal activities.
In February 1996, nearly nine years after becoming the first and only Marine convicted of espionage, former Sgt. Clayton Lonetree was released from prison.
REFERENCES
WOMAN WHO SEDUCED MARINE: A STYLISH PRESENCE — NYT
Supreme Court allows Lonetree espionage conviction –UPI Archives
=
On This Day — US Marine Clayton J. Lonetree Convicted in Sexpionage Case (August 21 1987)
On This Day — US Marine Clayton J. Lonetree Convicted in Sexpionage Case (August 21 1987) [2019]
On This Day — US Marine Clayton J. Lonetree Convicted in Sexpionage Case (August 21 1987) [2020]
On This Day — US Marine Clayton J. Lonetree Convicted in Sexpionage Case (August 21 1987) [2021]