APRIL 3 2021 — To celebrate Alan Turing featuring on the new £50 banknote, GCHQ has created their hardest puzzle ever in his honour. Follow us on Twitter: @INTEL_TODAY
Alan Turing was a mathematician, cryptographer and pioneer of computer science who possessed one of the greatest brains of the 20th century.
His life was one of secret triumphs shadowed by public tragedy. It has been estimated that his work shortened the war in Europe by more than two years and saved over fourteen million lives.
A quick comment — GCHQ writes: "On the 8th June 1954, Alan Turing took his own life."
This is a mistake. Turing's housekeeper found him dead on 8th June 1954 but he had committed suicide the previous day.
The Turing Challenge
The Turing Challenge requires you to solve a string of puzzles which get increasingly difficult. Crack the answers to the first 11 puzzles which should give you 11 single words or names which you'll need your very own Enigma simulator to decode! Ready?
Puzzle #1 — Hut 8
The questions begin with a relatively straightforward crossword-style puzzle that starts by asking where GCHQ's predecessor agency, where Turing worked, was based during the second world war. A two-word answer, nine letters then four, is required.
The stylistic 8s in the pattern above the bank building on the front of the note refer to Hut 8, one of the sections of GC&CS. Hence the importance of the 8th column below!
The answers to these questions are quite obvious but the result for the 8th column is already puzzling!
The answers to these questions are:
BLETCHLEY PARK

FIFTY POUNDS

POUND SIGN

GOVERNMENT

BANK OF ENGLAND

ALAN TURING

ENIGMA MACHINE
If you then selected the 8th letter of each answer, you obtain:
Answer 1 = EUGENIA
Keep in mind that you need to solve puzzles 1 to 11 in order to get a shot at the final meta-puzzle 12!
Puzzle #2 — Portrait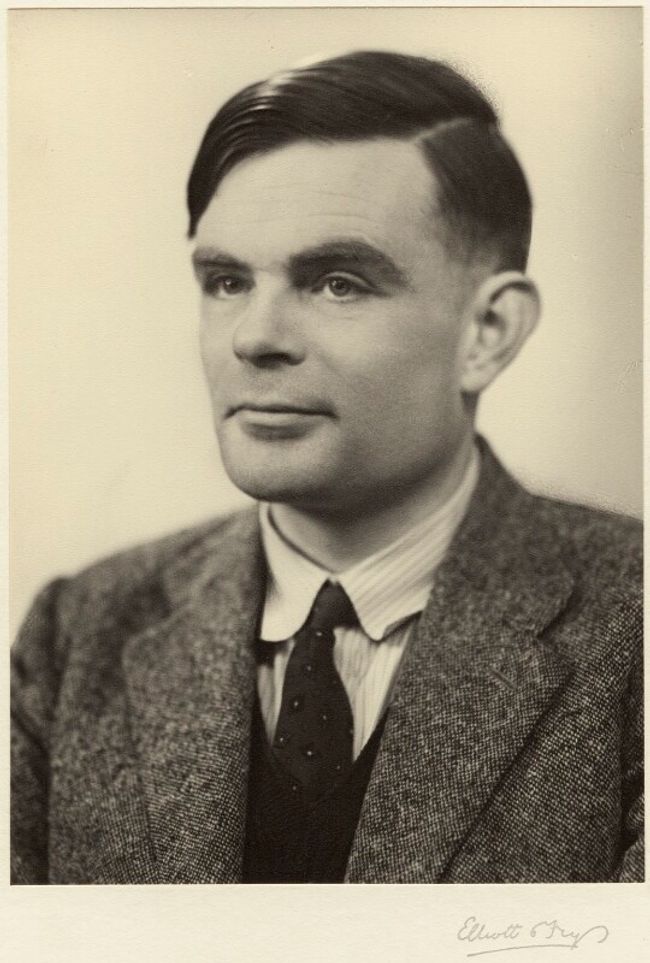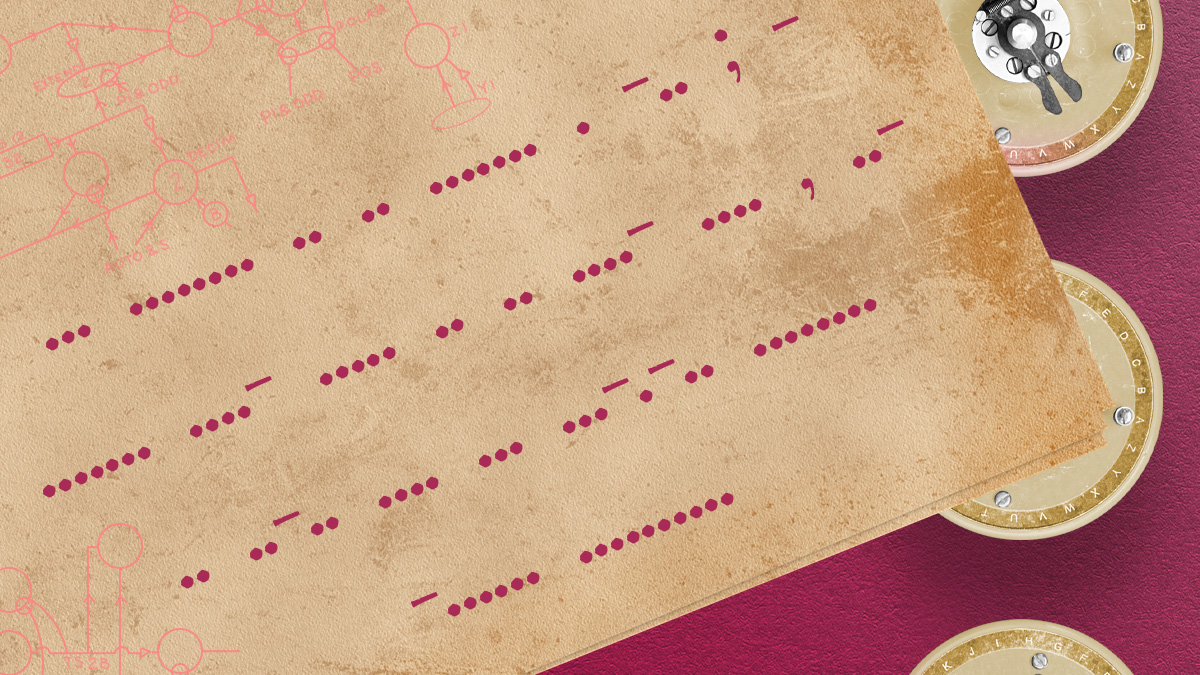 This one is not too difficult either. And GCHQ just gave us some serious HINT:
Here is a hint for puzzle two
-… -. . ..-. … …… -..
OK, I will give you an additional clue. Let us re-write the caption like this:
The portrait is by Elliott & Fry ; a
bromide print taken on 29 March 1951 , one
of three from the National Portrait
Gallery collection
Now, you should see some similarities with the 'encrypted' text. Good Luck!
SOLUTION
Take a look at the clue from GCHQ. Count the letters and the spaces in the plain text and in the coded text. In both cases, you find:
4 – 2 – 1 – 4 – 3 – 6 – 3
It is probably no coincidence and it is reasonable to assume that this is the same message. Then what?
Most letters have been replaced by a dot, and a few ones by an over-bar. The latter ones are:
H I N T
Back to puzzle 2, you will notice that the structure of the text (caption of the portrait) and the coded message is again identical. The punctuation was a dead giveaway!
Let us select the letters with an over-bar and we obtain:
Answer 2 = FATHERING
Puzzle #3 — Bits of Notes
First, take a good look at both sides of the the £50 banknote!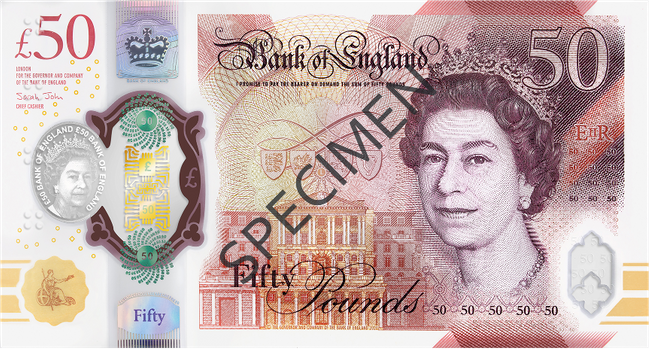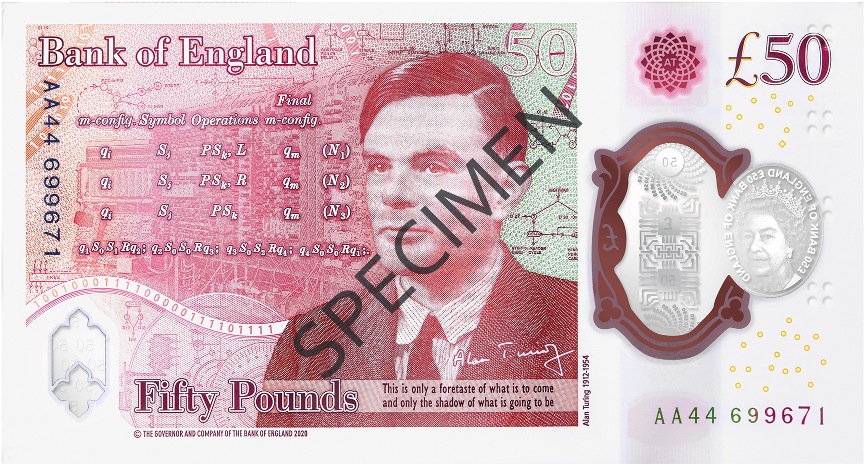 Question — Can you shed some light on these sequences?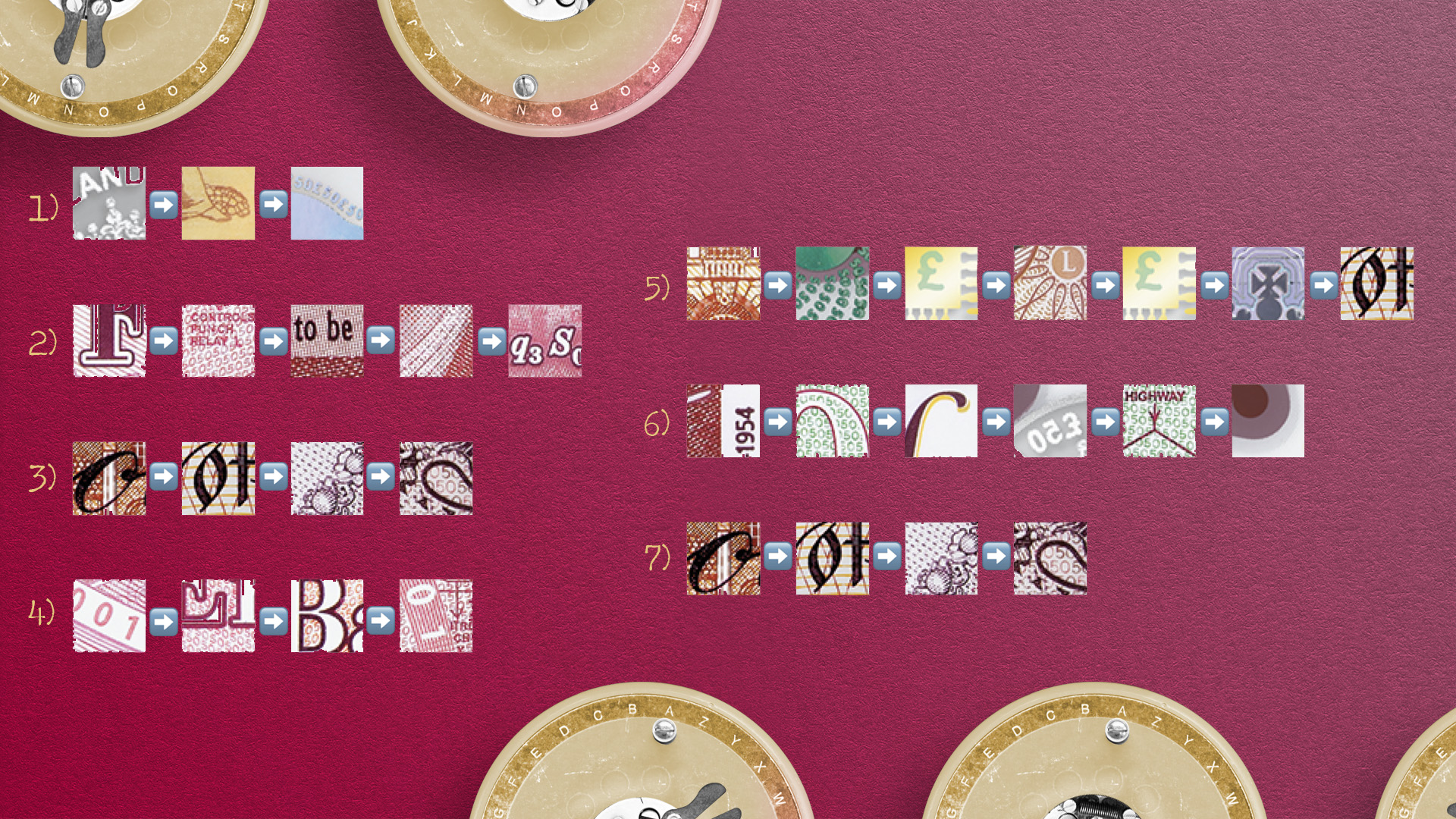 INTEL TODAY — Here is a clue. Look at the 3 small pics of sequence (1) and find out where they are on the £50 banknote. And then, just connect the dots!
If you succeed, just repeat the operation…
SOLUTION
So, Let us circle the 3 small pics of sequence 1 on the £50 banknote!
Let us do the next one….
And here comes the third letter.
And the fourth letter is a T.
Of course, you have already noticed that sequences 3 and 7 are identical.
So the answer is : L A N T * * N
Well, there is only one such word in English!
But make sure to check the E and the R!
Answer 3 = LANTERN
Puzzle #4 — WINDOW
"The transparent window on the £50 note is based on a pattern detailing one of the huts at Bletchley Park. We found an encoded message scribbled under one of them."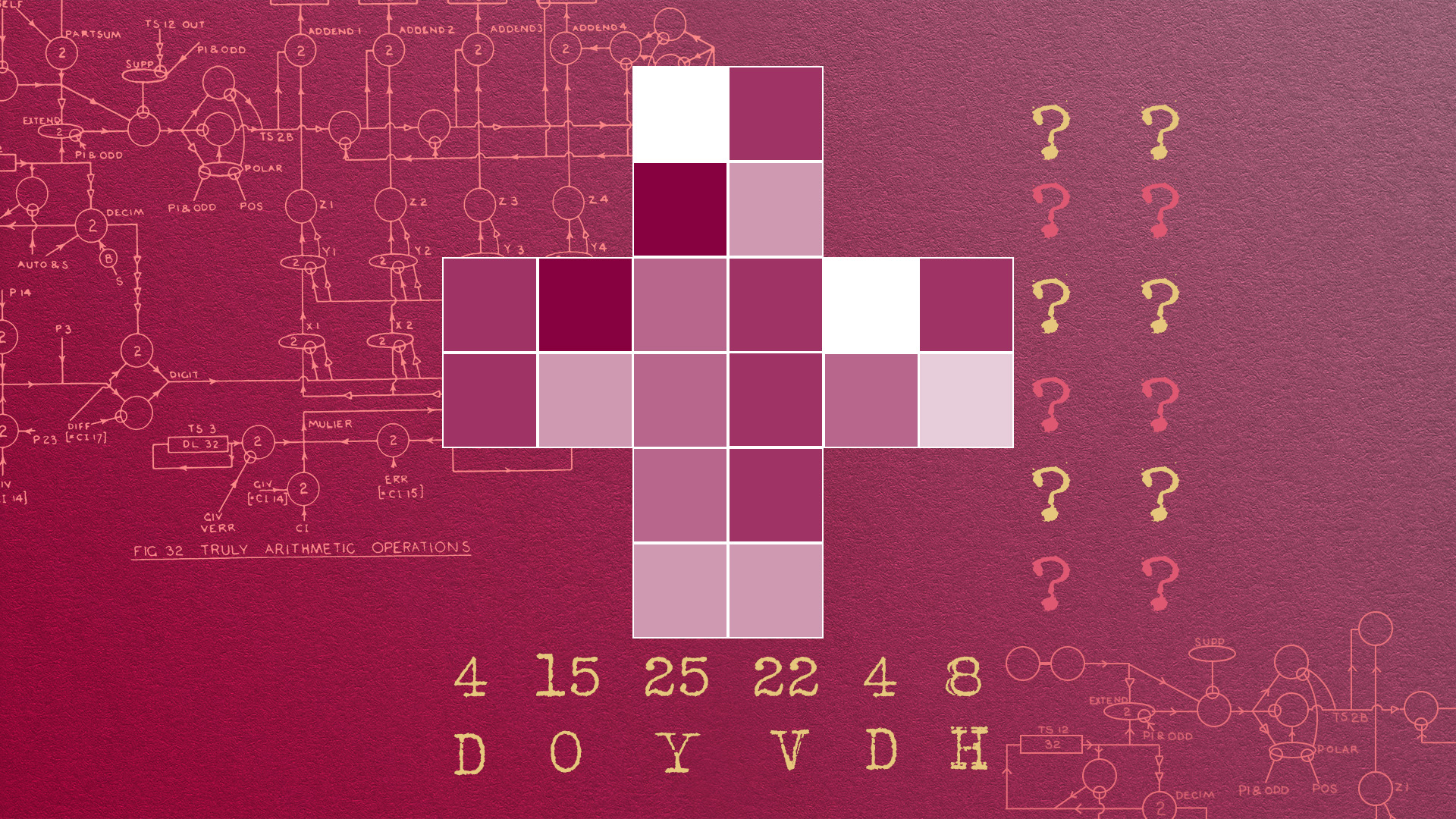 "Give it sum thought, and see if you can make it add up. If you look at it from a different angle you should see a Welsh town through the window, which would be a real plus!"
HINT — Obviously, each letter of the alphabet is associated to a number. That one is quite easy to figure out…
But there is also some color coding going one. And that can be tricky. The perception of colors is a complex operation. Be careful when you associate a color to a square. Good luck!
SOLUTION — Here is the way to answer such puzzle. First thing first. You have certainly guessed that each letter is associated with a number from 1 to 26.
A=1, B=2, C=3, D=4, …. Y=25 and Z=26.
Next, the colors of the "BIG PLUS" sign have been associated with numbers too, and you know their vertical sums.
But how many colors are there? This can be very tricky as the following picture demonstrates. [See: Illusion and color perception by Akiyoshi Kitaoka ]
Perhaps it is best not to trust your eyes and use a computer tool! [Here is one such tool: ImageColorPicker]
There are actually six colors which I have named C1 to C6.
Hexadecimal numbers are used on web pages to set colors. The color is defined by its mix of Red, Green and Blue, each of which can be in the range: 0 to 255 (in decimal) , or 00 to FF (in hexadecimal). The colors used in this puzzle are:
C1 : FFFFFF, C2 : E7CDD4, C3 : CF99B1, C4 : B8668C, C5 : 9F3365 and C6 : 870140
Now, here is the good news. You have a system of 6 equations with 6 unknowns. You just need to solve it!
(1) C5 + C5 = 4 therefore C5 = 2
(6) C5 + C2 = 8 therefore C2 = 6
(4) 4 * C5 + 2 * C3 = 22 thus C3 = 7
(2) C6 + C3 = 15 so C6 = 8
(3) C6 + 3 * C4 + C3 + C1 = 25 and thus C1 + 3 * C4 = 10
(5) C1 + C4 = 4 and thus (3) – (5) implies that 2 * C4 = 6 and thus C4 = 3 AND C1 = 1
And the mystery Welsh town is:
3 = C
15 = O
18 = R
23 = W
5 = E
14 = N
Answer 4 = CORWEN
Puzzle #5 — Foil
Alan Turing provided the theoretical underpinnings for the modern computer. The image of the microchip on the foil is a recognition of that achievement.
Complete the two sunflowers with four letter words spelt outwards from the central 50s, so that adjacent words differ by exactly one letter.
The example on the left shows how BANK can be changed to NOTE in four steps.
Once you have completed the sunflowers, find the central four letter word which differs by exactly one letter from each of the two words it's connected to through the microchips, to solve the puzzle!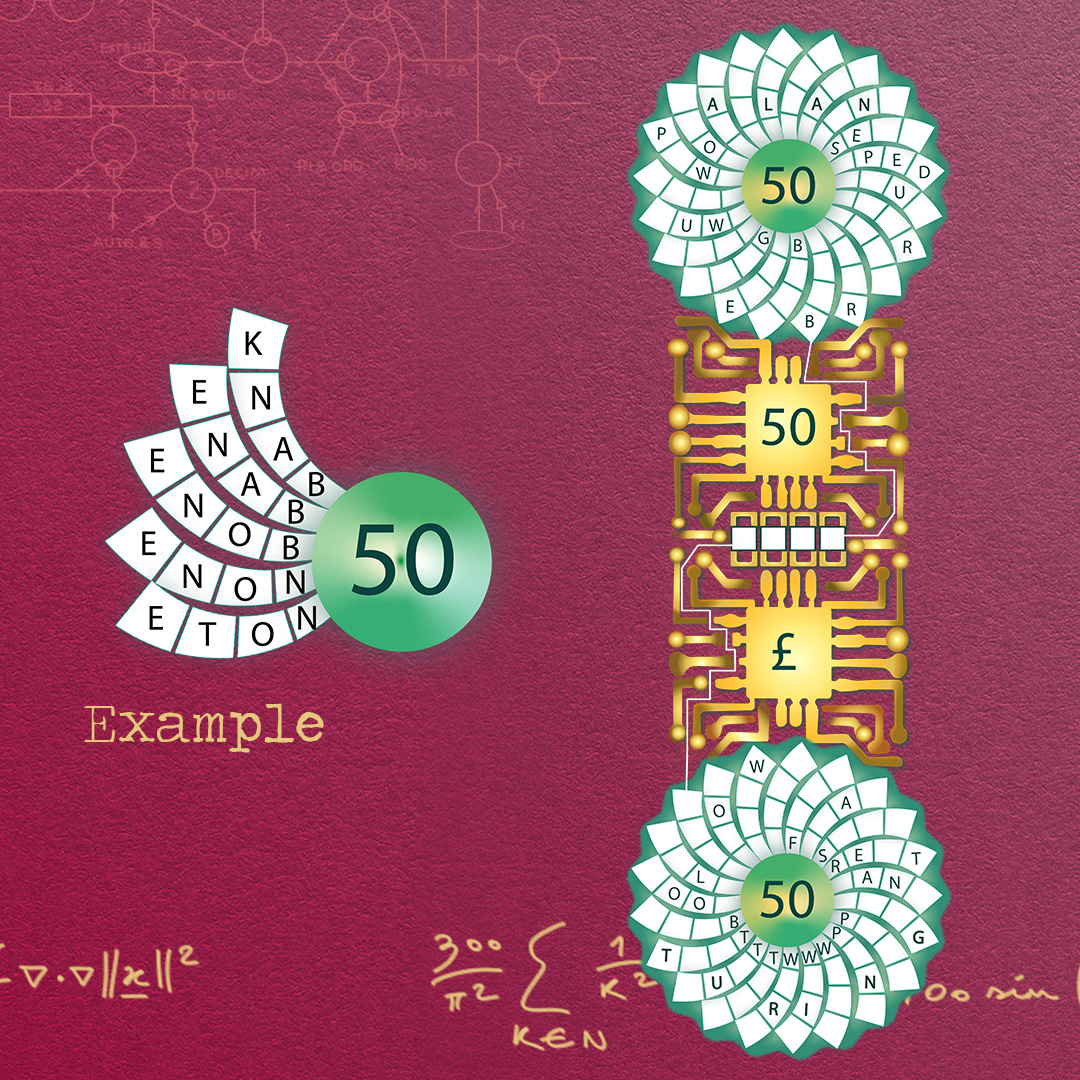 This puzzle is not particularly difficult and all crossword puzzles aficionados will easily solve it.
Therefore, I would rather take this opportunity to tell you something that is quite remarkable and completely counter-intuitive.
First, you do not have to solve the top flower to find the answer of that part.


Second, you do not even need to find the answer of the bottom flower to solve this puzzle.

I can hear you thinking: "This cannot possibly be true!"
Surely, you must think that I am kidding? See you next week!
***** ***** ***** ***** *****
REFERENCES
Alan Turing — a short biography by Andrew Hodges
The Turing Challenge — GCHQ
GCHQ releases 'most difficult puzzle ever' in honour of Alan Turing — The Guardian
Bank of England unveils new £50 banknote
=
GCHQ — Play the TURING Challenge! [Puzzle #1]
GCHQ — Play the TURING Challenge! [Answer to Puzzle #1 & Clue to Puzzle #2]
GCHQ — Play the TURING Challenge! [Answer to Puzzle #2 & Clue to Puzzle #3]
GCHQ — Play the TURING Challenge! [Answer to Puzzle #3 & Clue to Puzzle #4]